BERLIN REVS ITS CREATIVE ENGINES FOR SUPER 8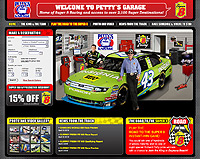 When the hotel chain Super 8 needed a NASCAR racing season promotion for 2010, Berlin immediately shifted into high gear by designing, developing and launching a multifaceted initiative — including a robust web site — in record time that would make any pit crew proud.
Berlin mobilized its strategic marketing and
web design teams to create a new version of the Petty's Garage web site, the home of Super 8 Racing. A division of the Wyndham Hotel Group, Super 8 is an associate sponsor of Richard Petty Motorsports and the famous No. 43 car, now driven by AJ Allmendinger.
Berlin gave the Petty's Garage web site an engaging yet intuitive interface that lets users easily navigate through weekly race updates, a photo and video gallery, team bios, and a booking tool that links to a Super 8 location finder and online reservations.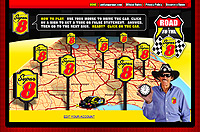 Visitors can also play the Road to the Super 8, an instant-win game and sweepstakes in which the player races his or her car around the U.S. map, clicking on Super 8 signs. Each sign reveals a true-or-false statement about racing, Richard Petty, AJ Allmendinger, or Super 8. Once the player has covered the map, he or she finds out whether he or she has won a prize, such as an autographed Richard Petty print, a Richard Petty Motorsports hat, or a $25 Best Buy gift card.
Everyone who plays is entered into the Road to the Super 8 sweepstakes in which eight lucky entrants will win a special Richard Petty prize package and a chance to meet the King himself in Daytona.
Visit Petty's Garage and the Road to the Super 8 at http://www.pettysgarage.com.

FIVE SOCIAL MEDIA MARKETING MISSTEPS
Remember when businesses established web sites and thought sales would magically result? Eventually, these companies realized they needed to market their online presence and to routinely add value to it.
Today, some of these same businesses have entered the world of social media, yet they've made mistakes similar to those from their early days online; they've simply planted themselves on Facebook or Twitter and are waiting for something great to happen.
What they don't realize is that social media marketing's effectiveness requires carefully considered strategy, thorough preparation, skillful deployment and an activation plan. Here are a few mistakes we at Berlin see businesses making in social media:
Parking it: Without compelling content, you won't be followed, and without a regular flow of content, you won't keep any followers. Before you establish a presence, have backup topics so you always have something fresh to post. Your Facebook page and your tweets shouldn't be limited to company news. Create reasons for people to revisit you on Facebook and to read your tweets. For example, Berlin's programming team is fluent in FBML, so we are capable of creating custom applications — sweepstakes, games and e-cards, for example — specifically for businesses' Facebook pages. This makes the pages more likely to be revisited.


Forgetting the social in social media: Just as nobody wants to have lunch with someone who only talks about himself, prospects aren't engaged by tweets or Facebook updates that speak only about your greatness and the greatness of what you sell. Your followers should feel you are communicating with them, not marketing to them. Sure, talk about your business, but you have other equally important missions: Engage your followers, and create a community where your followers engage each other. Ask questions. Start some buzz. Provoke thoughts.


Hyper-tweeting, or hyper-updating: Obviously people follow or fan you because they are interested in your business, but be mindful of your tweeting or posting frequency. There's no precise formula for how much is too much (or too little), but if you're just starting out, two or three updates in a day should be safe, especially on Twitter, where users in general are more accustomed to frequent updates.


Lacking a strategy for addressing negative posts or comments. If you're going to succeed in the social media space, steel yourself for criticism. Social media marketing is a commitment, and you should be 1) prepared to check your Twitter and Facebook accounts several times a day, 2) be ready to respond quickly to negative comments, and 3) have a strategy to take customer service issues offline so they can be handled privately and person-to-person instead of in front of an audience. You should, however, make it clear in your initial online response that you want to speak to the disgruntled party and resolve the issue. How you handle negativity on your page — and whether you handle it at all — says a lot about you as a business.


Over-replying: There's a fine line between being an active Facebooker and a productive one. Before you reply to a post on your wall, or to a comment, ask yourself, "Am I adding anything meaningful?" While you need dialogue with your followers, you also need to let followers have dialogue with each other. Your fans are more likely to keep dialogue going when there's some level of autonomy. Replying with a "thanks for your comment" every time someone comments will only serve as a turn-off. Not to mention, do you really want to seem like you have nothing to do all day except hover over your Facebook page, waiting for the next comment to roll in?
For more help with strategic planning and implementation for social media marketing, including the development of specialized applications for Facebook, contact Berlin for a consultation.